Since there are various eyeglass frame materials in the market, we'd better know more about materials and their difference in durability, uniqueness, color and price before selecting glasses.
Plastic Frames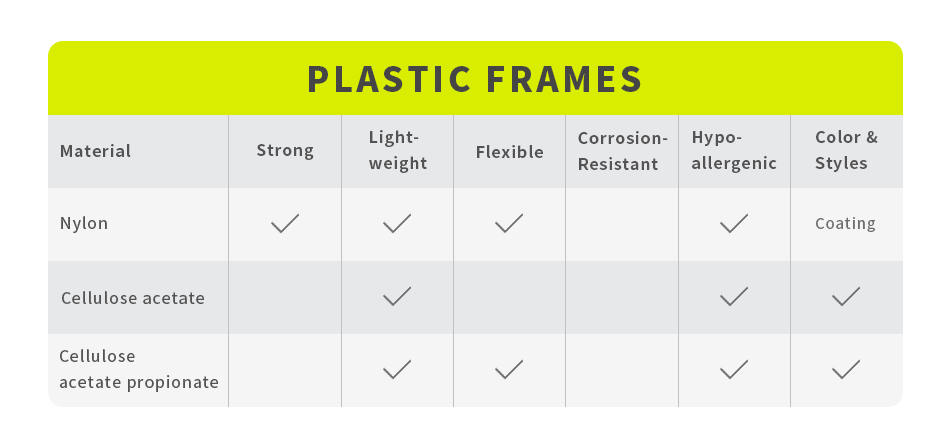 Plastic frames are weaker than metal frames since they're easier to break. Their strength can be decreased by exposure and aging. As for the color, they also fade over time.
Nylon material was first applied to making glasses in 1940s, and then the manufacturers found it better to use blended nylon because nylon is brittle. Blended nylon frames nowadays are lightweight as well as strong. So this kind of material becomes more popular. Nylon is also often used in sports and performance frames since it's not only flexible but also resistant to hot and cold. This kind of material can be easily molded into wraparound styles and other rarely seen styles.
If you like colorful eyeglasses, then cellulose acetate is a good choice. This kind of material is extremely lightweight and can be made into layered colors.
Many manufacturers like cellulose acetate propionate, not only because it's hypoallergenic, but also consider its weight and gloss. This kind of material is usually lighter than other plastics and has beautiful transparency and gloss. If you're seeking for a lightweight glasses, it's no doubt a good choice.
Metal Frames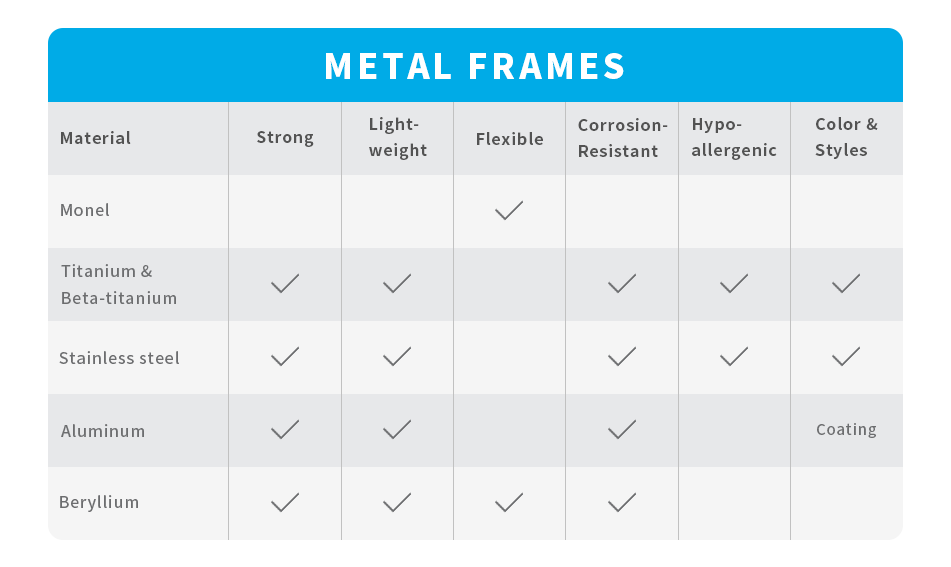 Based on corrosion resistance and malleability, monel is widely used in making eyeglasses. Most monel frames are hypoallergenic, but we can use palladium or other nickel-free material to prevent this.
Other popular hypoallergenic metal materials are titanium and beta-titanium.  Titanium can be made into different colors, it's durable, corrosion-resistant, and has the advantage of weight. Sometimes, they'll combine titanium and other metals because it is more cost-effective than 100% titanium frames.
Stainless steel is often regarded as an alternative to titanium. Its price is more reasonable and easy to buy. This kind of material is also lightweight and has good strength. For stainless steel frames that are nickel-free, they're also hypoallergenic. And many stainless steels may contain chromium with a proportion of 10%-30%, which is resistant to heat and corrosion.
Aluminum is a widely used metal in all fields, and it's also popular among high-end eyewear designers since it's good for creating unique styles. Meanwhile, it's lightweight and resistant to corrosion.
Some manufacturers also like to use Beryllium, a kind of lightweight, flexible steel-gray metal, instead of titanium. Because this material is low cost, and it is also resistant to corrosion and tarnishes. Therefore, it's a good option for those who spend lots of time around salt water. Many colors can be made based on this material.
Other Material Frames

Silver is not often used in making frames since it's not very wearable or comfortable enough. Thus, silver is usually used as decoration on plastic frames or as a trace element in mixed metal frames.
Wood is more expensive and stiffer than other kinds of materials, and it's not easy to adjust. But still many people like its uniqueness. And there're some similar materials like bone, and buffalo horn. They make you feel totally different from other frames.
What makes you allergic to your frame?
If you feel allergic to metal frames, it's usually caused by nickel. And some of you may have a reaction to nose pads on metal frames because some of them may be made of silicone. Last, most plastic frames are hypoallergenic.
If you like our brand Jim Halo, make sure to follow us on our social networks, we'll keep updating!
Click to follow our Instagram on @jimhaloeyewear.
Click to follow our Facebook: jimhaloeyewear.