This guide will explore:
Understanding Your Face Shape

Cat-Eye Glasses Trend

Geometric Frames Trend

Oversized Frames Trend

Translucent Frames Trend

Rimless Glasses Trend

Vintage-inspired Glasses Trend

Discussing lens types and coatings

Color Palette

Decorative Elements

Conclusion
Text Leading
Eyewear has metamorphosed from a mere necessity to an essential fashion accessory. Trendy glasses for women no longer just improve vision – they reflect personality, mood, and individual style. This year, 2023, has brought an exciting blend of contemporary and vintage eyewear designs. Whether you're a dedicated fashion enthusiast or someone seeking to update their frames, this article has got you covered. Dive into the intriguing world of 2023 women's eyewear with us.
Understanding Your Face Shape
Before diving into the latest trends, it's paramount to understand one's face shape. Why? Glasses aren't one-size-fits-all. To emphasize your features and ensure a harmonious look, you need frames that flatter. Wondering how to determine your face shape? Observe the width of your brow, cheekbones, and jawline. Once identified, you can effortlessly match trendy glasses for women to your face's contour.
Cat-Eye Glasses Trend
Cat-shaped glasses are one of the
trendy glasses for women
in 2023. Cat eye frame mirror frames exude charm and confidence from the 1950s and 1960s. In 2023, cat-shaped glasses will return to the public eye. Cat-shaped glasses are loved by women for their unique shape and charm. Modern iterations of Ownkoti blend past and present, retaining classic shapes but often flaunting more refined, sleeker designs. The cat eye frame features a bold top shape and tapered temples. Its unique shape perfectly showcases a woman's eyebrows and eyes.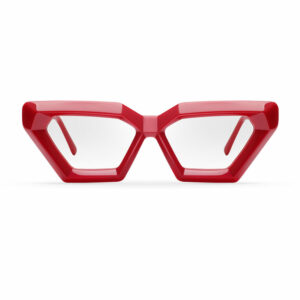 Geometric Frames Trend
The geometric shape is an evolution of the playful silhouette with oversized angles. It suits many face shapes and can add angle to round or oval faces and soften square faces. This trend works especially well in metal frames, colorful chunky acetate or tortoiseshell frames.Distinctive and edgy, these frames break away from the conventional round or square designs. By sporting these trendy glasses for women, you effortlessly add a modern touch to your outfits. Check out Ownkoti's range for an array of designs that play with angles and lines. You'll be amazed!
Oversized Frames Trend
As the saying goes, the eyes are our "window to the soul". When you wear oversized glasses, the oversized frame can center the eyes, making your facial features more symmetrical and the iris more prominent.
There is also a very important reason that when you wear oversized glasses, the glasses will cover most of your face, visually shrinking your face, thus making your appearance more refined and beautiful. It may sound incredible, but it is, and they are very effective at hiding blemishes and amplifying the best facial features. And because the frames are bigger, your lenses are bigger too, so oversized glasses can also increase your field of vision. Whether it's straight up, down, or your peripheral vision, these glasses cover the entire area around your eyes, allowing you to see without moving your head. It is this characteristic that makes them one of the
trendy glasses for women
.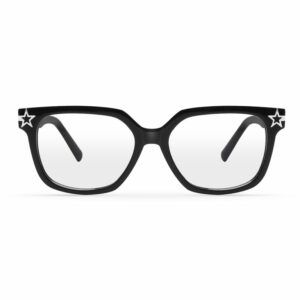 Translucent Frames Trend
Subtle yet impactful, translucent frames are the chameleons of eyewear. They seamlessly blend with various outfits and color palettes. Light, airy, and elegant, these trendy glasses for women from Ownkoti offer a fresh take on eyewear aesthetics. For the best effect, opt for muted and pastel wardrobe colors.
Rimless Glasses Trend
Evoking simplicity and sophistication, rimless glasses champion the 'less is more' mantra. They've been around since the late 1800s and are perfect for those who appreciate understated elegance. Style them with structured outfits to accentuate a clean and polished look.
Vintage-inspired Glasses Trend
All things retro have an inexplicable appeal, don't you think? Imagine tortoiseshell motifs telling stories of old-world glamour, subtle metallic whispers suggesting timeless elegance, and shapes that have been loved over the years. Intricate hinge details and rich moiré temples create a classic and luxurious feel. Watch the past and present come together in a harmonious arena. It's not just about looking good, it's about feeling connected to timeless times while stepping confidently into today's world! Vintage style glasses are enduring trendy glasses for women.
Frame Materials
Acetate: Almost all frame materials on the market are cellulose acetate. It has high surface hardness. No surface treatment is required, the texture is noble and wear-resistant. Appropriate comfort adjustments can be made according to different face sizes.

Metal: The frame of metal material has the advantages of certain hardness, good softness, good elasticity, wear resistance, corrosion resistance, luster and good color.

Plastic: Plastic frame glasses are very light in weight, the cost of the plastic frame is low, and the process is simple. And because the plastic frame is rich in color, light in texture and diverse in style, it is one of the material choices for trendy glasses for women.
Color Palette
After choosing the frame that suits you, don't forget their color matching. The frame of 2023 will usher in an exciting color palette. From navy blue to soft lilac and classic black, these shades reflect the latest fashion color trends. Everyone can proudly present themselves in a bolder, more colorful, fun and confident way. Color is also an element that can not be ignored in
trendy glasses for women
.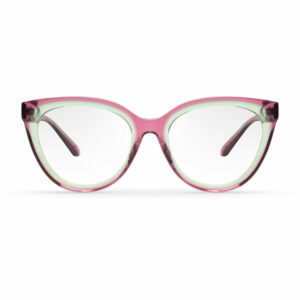 Decorative Elements
It's all in the details! This year, eyewear designs feature embellishments that add an elegant and unique touch, adding pop to
trendy glasses for women
. Whether it's tiny stars, intricate patterns or metallic details, Ownkoti has a variety of options to enhance your eyewear designs.
Conclusion
In the grand tapestry of fashion, glasses have carved a unique niche. They're not just functional pieces but essential style statements. 2023 has presented a wonderful array of trendy glasses for women, blending the past, present, and future. Explore the exquisite range at Ownkoti and transform your style today! Express yourself, be bold, and remember – the world looks better through stylish glasses. Come and visit Ownkoti.com to find your own style.